About Mayur Seeds
MAYUR HYBRID SEEDS PVT.LTD.
The founder of the company Lt. Seth Ramanlal Jain commenced our company Brand "Mayur " in the year of 1965 with the production of Bhindi (okra) ,chilli seeds and Onion seeds. Today in his absence, the company is being run by his third generation as "Mayur Hybrid Seeds Pvt.Ltd.".
His main aim of establishing a seeds company was to provide excellent quality of seeds in cheaper rates to all the farmers of India and he tried his best to achieve his aim. Now also we are trying our best to achieve the same aim of our father.
MISSION
Our Mission to help farmers to raise their life standards. We intend to build worth full relationship with farmers by providing wide range of our promising varieties. We believe that farming has potential to grow economies and we are trying our best to bring happiness.
R&D
We are involved in improving and developing new varieties. In our farm house at Sater village, the R & D process is being followed to examine the best quality of the seed in the advisory of Dr. K. B. Nigam, Ex. Dean of J.N.K.V.V.Mandsaur.Since its establishment MAYUR HYBRID SEEDS PVT.LTD has bread hundreds of excellent vegetable and grain varieties under the leadership of the company founder Lt.Mr.Ramanlal Jain. The cultivate seeds popular and highly recommended in both domestic and new stapein overseas market.
Production & Contract farming -We have a brilliant team of farmers whose members produce seeds in the net house worth the help of various methods of irrigation such as drip irrigation. Our team works very hard to give the maximum disease free production. We are also organizing contract seeds production of all kind of hybrid and open pollinated vegetables with proper isolation and high quality seeds under supervision of our experts.
Processing, Packaging & Testing-
We follow the modern technology of "Z" processing plant. Once the seeds are processed, they are tested in the laboratory and after passing the test, their packaging take place.
Marketing.-
At present, we have a strong dealership network all over the India and very soon we are taking our company at the international level. Our "MAYUR" trademark is registered on the legal basis and we have copyright of it in around 84 nations of the world
MAYUR GROUP
1. SANJAY KUMAR RAMANLAL JAIN
2. MAYUR HYBRID SEEDS PVT. LTD.
3. M. P. PROGRESSIVE SEEDS CO.
4. M.P.P.S. CO. PROCESSING PLANT
5. MAYUR AGRI RESEARCH FARM
Founder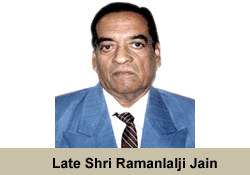 Chairman
Director